objectives
Combine 5 Websites Into 1: 5 websites were combined to provide a comprehensive overview of the various events, initiatives and resources the Tri-Cities ECD Committee and Middle Childhood Development Committee in conjunction with their partners have established for children, families and professionals in the Tri-Cities area.
Create a Logo: A new logo was developed for the Tri-Cities Kids Matter website. 5 bright colours were utilized to not only represent the 5 websites merging together (Tri-Cities ECD, Tri-Cities MCM, Unplug & Connect, Tri-Cities Child Rights & United Way Avenues of Change Coquitlam River) but also to reflect the diversity and vibrancy of the Tri-Cities children and families. The ripples represent the ripple effect of investing in our children in the wide variety of ways represented throughout the website.
Showcase the Initiatives, Children's Charter & Resources: Provide a place where the various initiatives, events and resources created for families and professionals in the Tri-Cities area could be showcased along with the development and ongoing adoption of the Children's Charter.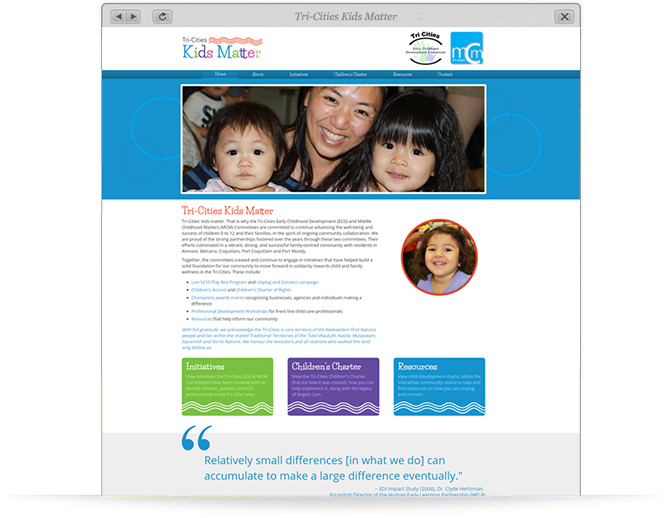 We hired Nikki and Dan to consolidate 5 websites into one while trying to ensure that all the relevant information we had on each website found a place within the new one without the new one being overwhelming. There were certain initiatives we wanted to highlight and they were accommodating of all we asked for but advised us when our ideas wouldn't flow as well. They had wonderful suggestions and ideas; they were super supportive of all the changes we wanted to make and very helpful on areas we weren't too sure of. We've had such great feedback on the website and it is better than we hoped it would be! They were such a pleasure to work with! I would happily work with them again in the future!
it's in the details
Community Resources Map & Listing: The various resources around the Tri-Cities area were created as a mobile friendly Google Map and can be filtered by category, location or by keyword search. The resources are also provided by category as a listing below the map for those who prefer the listing format.
Children's Charter & History of its Development: The Children's Charter of Rights was carefully created and adopted with the input from various partners, the Tri-Cities community and from children themselves. It was imperative to showcase the charter and its journey of development in a visually appealing way while also providing the pertinent information. The history is displayed as a timeline where each item can be clicked on to view more information and photos from the event or pertinent piece in the development of the charter. The charter itself is presented in a bright, inviting format where each charter item is highlighted along with a corresponding photo.
Child Development Charts: Child development charts from 0 to 5 years and 6 to 12 years were presented in an easy to use format allowing parents and caregivers to view typical milestones in various child development areas for their specific age grouping. PDF's are also available in a few different languages for those who would prefer to print the charts.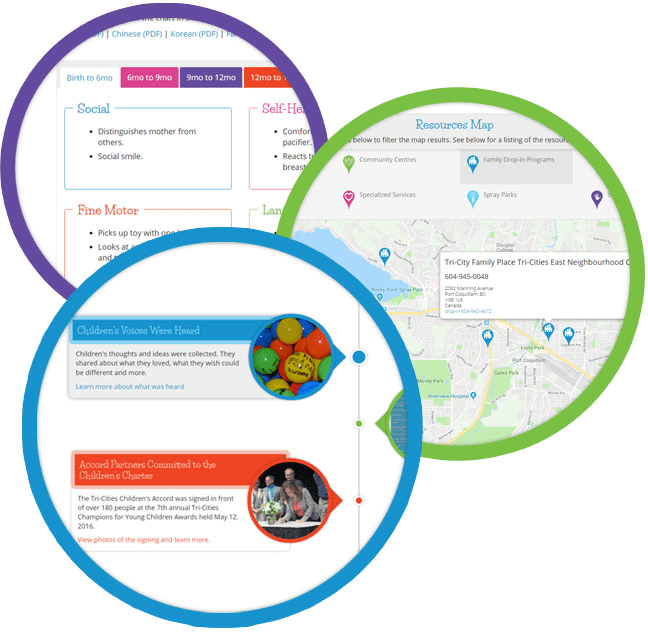 additional photos
Click on the images below to view various pages on the Tri-Cities Kids Matter website.