Status Electrical Corporation
Industry: Electrical, Automation & Systems Completion: September 2014
www.statusteam.com
objectives
Showcase Status Electrical's commitment to excellence & safety, longevity and extensive project portfolio
Allow applicants to easily view and apply for careers.
Allow news to be posted so staff in various locations can keep updated with current news & events.
Mobile friendly to work on various screen sizes and devices.
Easy to manage and update.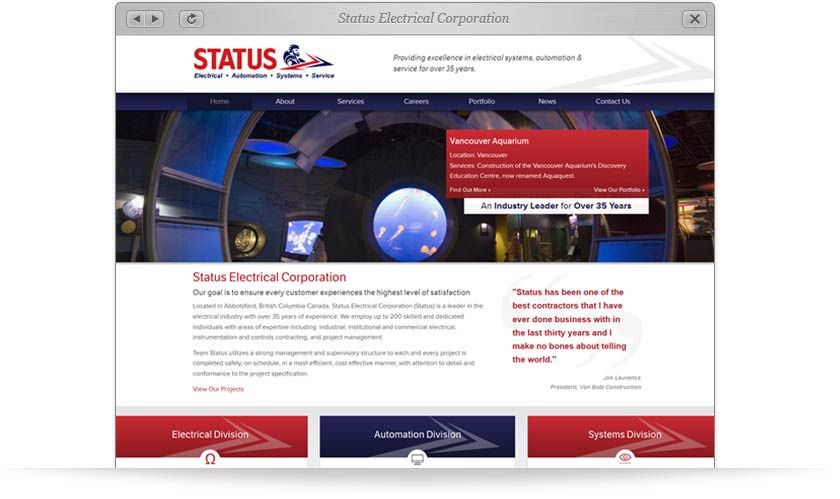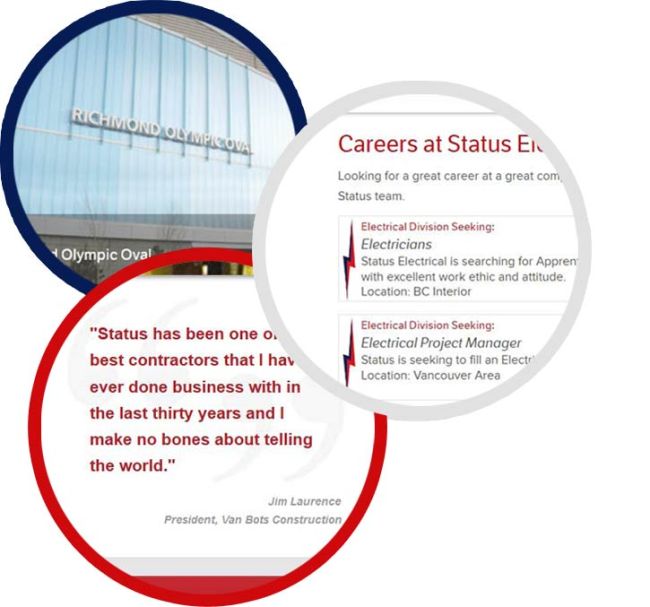 it's in the details
Showcase Status Electrical Corporation projects utilizing imagery in banners that fill up the fill width of the screen and through the portfolio with individual galleries.
Easily add new job openings which automatically populate on the homepage (first two) & the careers page. Applications accepted online and resume's can be sent in on the same form.
Specialized formatting to highlight client testimonials.
Distinctly display the three divisions of Status Electrical Corporation: Electrical, Automation & Systems divisions
Not only did Dan and Nikki provide us with a beautiful, creative and functional site, they made sure our staff and clients can easily navigate them. They patiently worked with us through the entire design stage, answering every email, every request and providing a creative solution.

Their professionalism drew us in for our initial website design (project #1) and their skill and expertise lead us into creating a new Employee Training Portal (project #2) - a separate site they created to mirror the look of our public website and complete with secure log ins, videos, email notifications and online test submissions. Now we are in discussions for project #3!
before & after
drag the slider to the left & right to view before & after photos of the website.