objectives

Genome Prairie had a well developed and articulate plan for the creation and development of their 2020 - 2021 online annual report. It was a pleasure to collaborate with them to design and develop a single page report that showcased Genome Prairie's world caliber genomics research, their role in promoting awareness of the field and their collaboration and alignment of partners and resources during the 2020 to 2021 year.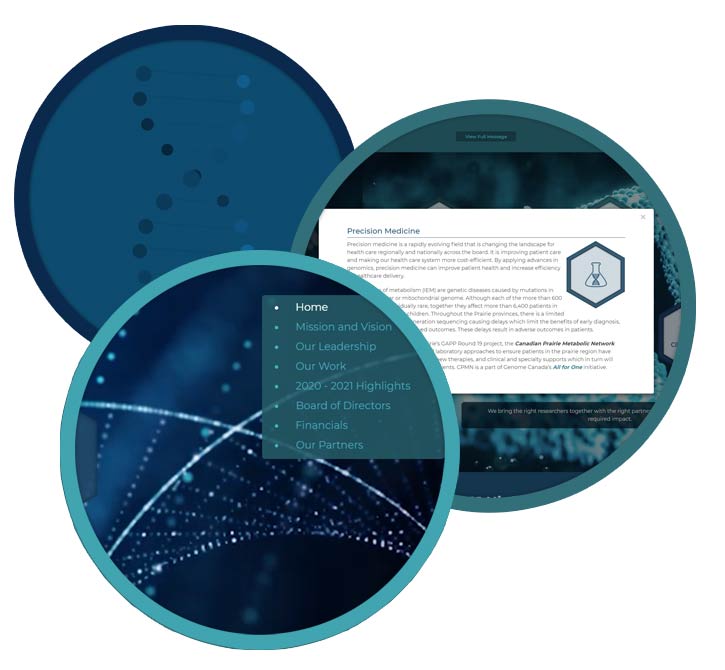 it's in the details
Navigation That Gets Out of The Way:
Navigation initially displays as a list of vertical dots that change as a visitor advances through the single page annual report. If a user prefers to view the overall structure and skip to different areas they are able to hover over the navigation to view the section titles and jump to those areas of interest.
Layered Information
Information is layered utilizing modal windows. This allows the user to see an overview of the information provided in a section while giving them the authority over their experience. They choose what items they would like to discover further. This may be experienced as text or media.
Subtle animations
Animations are added which provides interest as the visitor explores the digital annual report. These animations reinforce the overall message while also providing indications of clickable elements where more information can be discovered.
additional photos
Click on the images below to view the various sections of Genome Prairie's digital Annual Report.