Early Childhood Educators of BC
Industry: Non-Profit, Early Years Sector | Launch Date: September 2020
objectives
Priority Focus Areas Prominent
From professional development workshops to sector initiatives the ECEBC website houses significant amounts of information for early years professionals, their supporters and the public. It was imperative to ensure that the essence of who ECEBC is, what they do and what is available to members was not lost and prominently available to website visitors.
Professional Design While Reflecting the Early Years
A key objective of the design was to include some whimsical elements to be reflective of the young audience the early years sector serves while still providing a professional feel to remain true to the skilled and talented early years professionals ECEBC represents.
Adaptable to changing content
The website is constantly changing with updates on sector initiatives, professional development opportunities, job postings and more. It was important that it was structured and adaptable to grow with the ever changing content.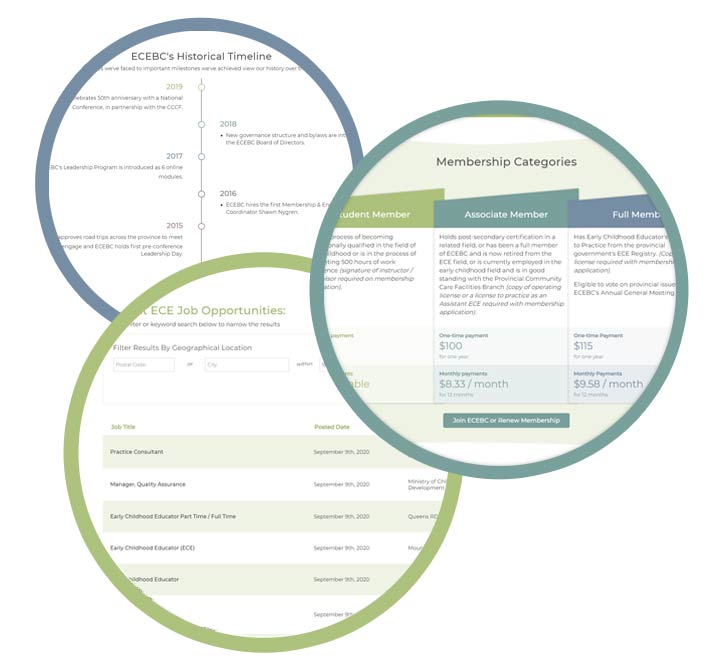 it's in the details
Historical Timeline
The prominent challenges and milestones in ECEBC's 50+ year history of representing and advancing the quality and professionalism of early care and learning is displayed in a timeline format which is clear to view and easy to update.
Clear Navigation & Entry Points.
Visitors are presented with a clear navigation structure to access the 200+ pages of the website without being overwhelmed. It was important to ensure connections between different areas of the website were made where appropriate to allow people to access relevant information.
Membership benefits, registration or renewal
View membership benefits in a fun, interactive way on the homepage and then view categories and become a member or renew online.
Job Postings
Employers can submit & pay for job postings online. Once approved the posting page is automatically created from the submission to be efficient for administrators. Job postings also include structured data to support inclusion in Google's rich search results.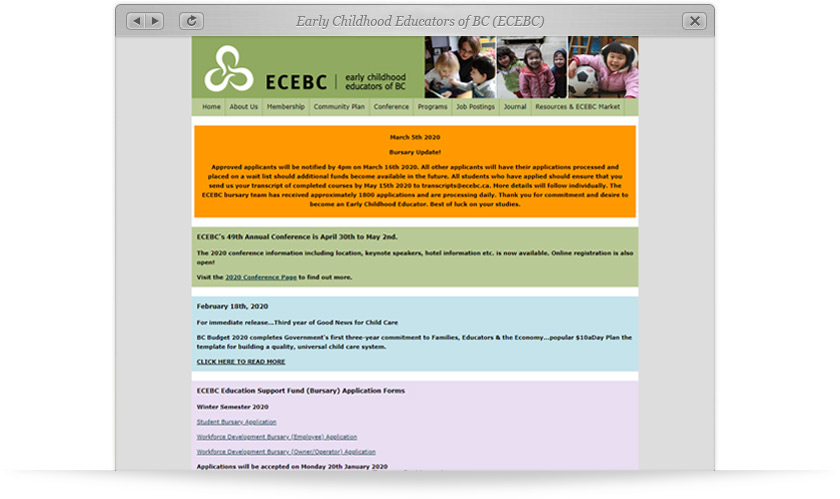 before & after
drag the slider to the right & left to view before & after photos of the website.
additional photos
Click on the images below to view various pages on the Early Childhood Educators of BC website.