objectives
Clear & Effective Messaging: Provide effective messaging that would clearly communicate who GiveClear Canada® is, how the platform works and the benefits of utilizing it for making and managing your giving of both one-time and recurring donations to any registered charity in Canada.
Provide Clear Calls To Action: Ensure users can easily sign-up, login to their account and / or download the app from Google Play™ or Apple's App Store™.
Best Practices For SAAS: GiveClear's donation platform falls under the software as a service (SAAS) designation and as such it was important to use best practices of SAAS sites while still retaining GiveClear's unique identity. This was a collaborative process that built a strong foundation for the project.
Having worked with Triple I for the last several years, it was without hesitation that we called Dan and Nikki to create the GiveClear Canada website. This team ranks at the top as one of our favourite firms to work with. Professional, creative, skilled, conscientious are just a few of their attributes. The website they built for our other business continually ranked at the top for SEO for a solid several years, without us having to supplement content much at all.

The process of creating the GiveClear website was a collaborative one, during which we were listened to and heard. The ideas were clearly executed with timeliness, and adjustments and iterations were taken care of without hesitation. Working with Dan and Nikki has become a highly-valued relationship, and one which we anticipate will expand and grow along with GiveClear Foundation.
it's in the details
Content Strategy: GiveClear Canada® provides a different way to donate and track your donations that is new to many people. It was imperative to not only build the website to be optimized for SEO purposes but to clearly describe how their Giving Fund platform works to new visitors. It was important to break the process into 3 easy steps with further details available in the GiveClear DAF infographic. We worked closely with GiveClear to balance the various needs of the website, clearly communicating who and what GiveClear does in an inviting format with clear calls to action.
Donating Securities Directly To Charities: GiveClear Canada® wanted to showcase the benefits of donating publicly traded securities to Canadian registered charities. A custom block was developed allowing GiveClear to enter the 3 numbers needed for the block to automatically calculate out the comparisons to showcase the benefits of donating securities directly to a charity vs. cashing them out and then donating.
Ideas in Motion: We love collaborating with our clients and bringing their ideas to life. GiveClear Canada® had various creative ideas including one for displaying a variety of local, national and global impact areas one may choose to donate to. An animation effect was added to highlight each one as the user scrolls down and it was carefully implemented to work on various screen sizes from 1024px and up.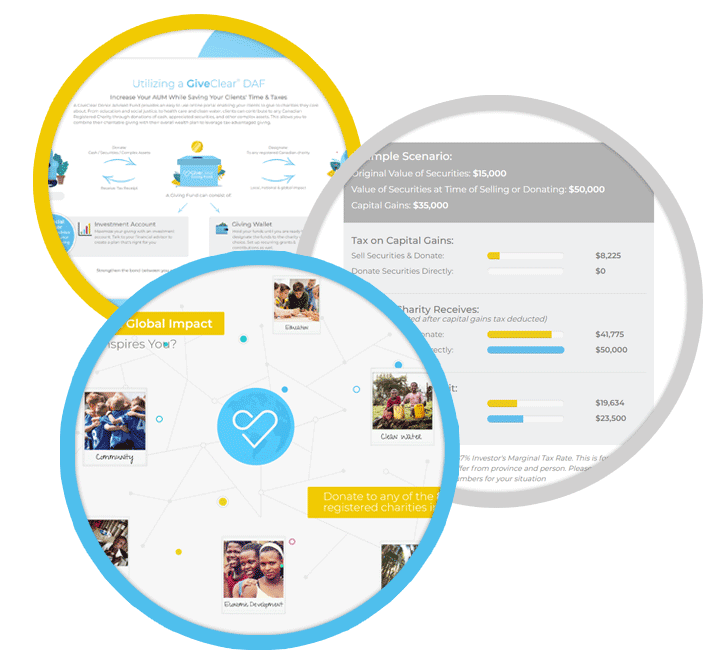 additional photos
Click on the images below to view various pages on the GiveClear Canada™ website.