objectives
Professional Design & Incorporation of New Branding: Deliver a professional design that incorporates WCCRC's core values while reflecting the vibrancy of children and the early years community WCCRC collaborates with and supports. The diamond shape of the logo was carried throughout the design and two additional colours were added to compliment WCCRC's two principal colours of purple and green.
Increase Usability & Functionality: Add a child care search for the Vancouver area. Allow listing and calendar view of workshops and create an employer portal for increased efficiency when submitting job postings.
Easy To Maintain: Allow it to be easily updated by staff, enabling them to update text and imagery, add new blog posts, update the workshops calendar, manage the job postings and more.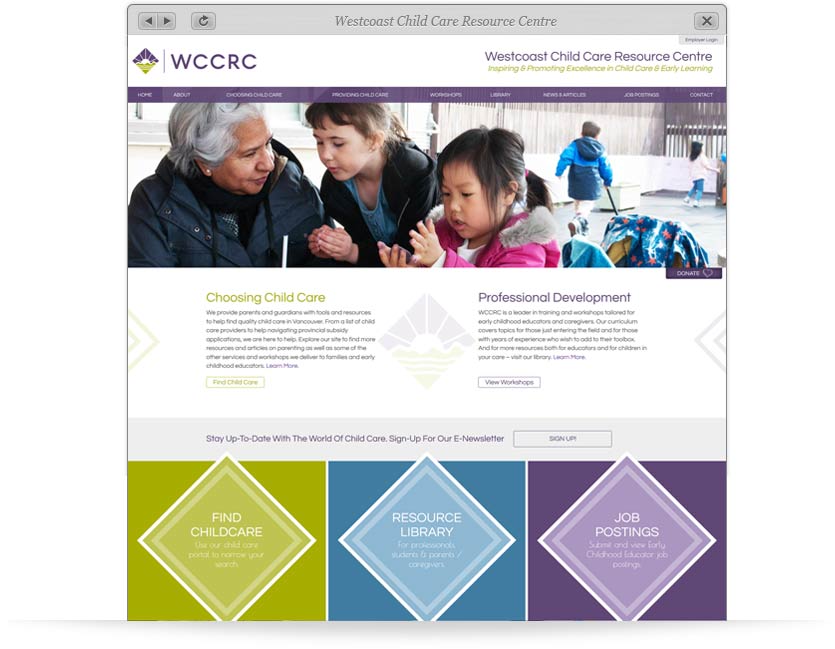 it's in the details
Child Care Search: allows parents & caregivers to search from almost 700 child care providers in the Vancouver area. Filter by age group, license type, language, curriculum or even by selecting a neighbourhood from the map. Results are then available in a listing format, displayed on a map or via a printable PDF.
Job Search & Employer Portal: ECD job postings can be submitted by employers. An employer's portal allows employer's to easily manage their job postings and create new ones from previous postings. The job opportunities can be filtered by a number of criteria and each posting uses structured data to display in Google's rich results.
Calendar Display: A calendar display showcases the various workshops available to child care professionals. A list format is available for those who prefer the list view.
Diamond Shape From Logo: The diamond shape from WCCRC's new logo inspired a number of design elements and was used throughout the website reinforcing the new branding.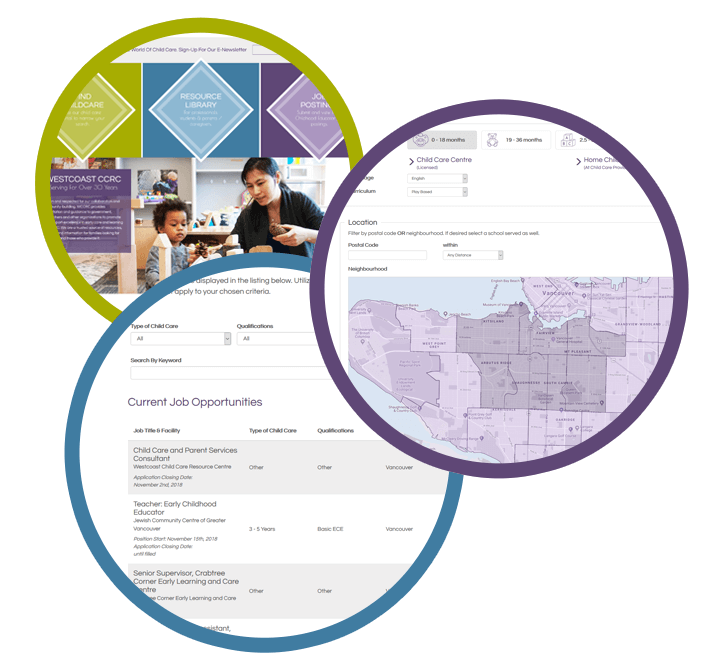 It was such a pleasure working with Dan and Nikki to take our website from dream to reality. They took what we thought was an overwhelming project and made a plan that was understandable, relevant and workable. Our branding was integrated into the website design seamlessly. They offered thoughtful solutions and worked with us to make sure the product met the needs of the end user. Dan and Nikki complement each other in their skill sets - both very talented in what they bring to the project. We love our new website and the feedback has been incredible. Thank you Dan and Nikki - we look forward to working with you again in the future!"
before & after
drag the slider to the right & left to view before & after photos of the website.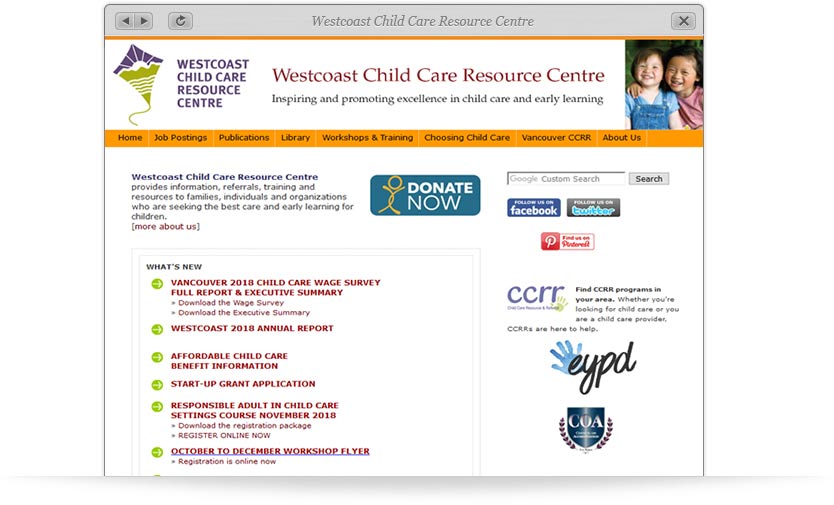 additional photos
Click on the images below to view various pages on the Westcoast Child Care Resource Centre website.