Columbia Cabinets - Abbotsford Web Design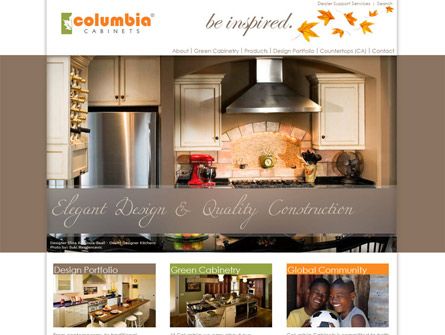 It is our pleasure to announce the launch of Columbia Cabinets' new website. Columbia Cabinets is based out of Abbotsford, B.C. but distributes it's well-constructed, beautifully designed cabinetry throughout North America. We thoroughly enjoyed working with them to showcase not only their exquisite product line up but also their commitment to the global community. Columbia Cabinets also demonstrates their dedication to preserving the environment through their green cabinetry solutions.
We designed a new, largely image based website to showcase their cabinet collections. Various JQuery slideshows were used throughout the site as well as a JQuery flip wall to showcase their industry membership affiliations. The design portfolio was broken down into Contemporary, Transitional and Traditional making it easy for the end users to view images in their preferred design style. To find out more about the project feel free to view Columbia Cabinets in our portfolio.
We had a fabulous time working with Columbia Cabinets and would highly recommend checking out their new website or if you are located in the Fraser Valley area, drop by their showroom located at 2221 Townline Rd. in Abbotsford.