objectives
One-Stop Source: Provide a one-stop source for programs, events and articles specifically geared for children 0 to 6 and their families / caretakers in Richmond.
Multi-Lingual Functionality: Provide a multi-lingual website allowing pages to be viewed in both English and Chinese languages.
Bright, Inviting & Usable Design: Deliver a welcoming website that reflects the early years demographic the content is geared towards while also appealing to parents and caretakers who are the primary audience.
Easy To Maintain: Allow it to be easily updated with blog posts and calendar of events / programs.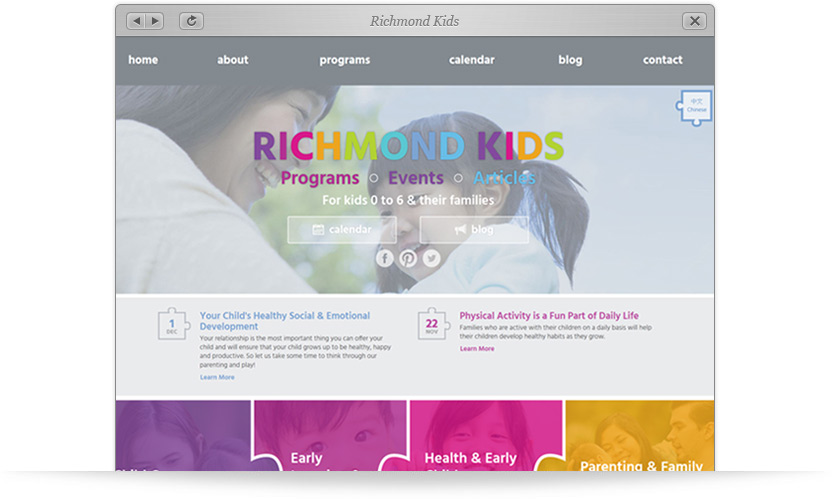 Nikki and Dan have been helpful and supportive in our vision since day one. From designing mock ups, changing small aspects to maximize ease of use, and answering any questions we have. They have been adaptable to our changing needs, and their years of experience have been an asset to our website being a success. I particularly have to credit them for taking the time to teach me how to do some of the updates myself. They are hands-on, knowledgeable and a breath of fresh air to work with."
it's in the details
Colour Coded Categories: Each category is colour coded to assist visitors in knowing where they are on the website.
Calendar Display: A calendar displays the number of events on the day and when a day is clicked on pops-up a list of all the events that day. The calendar allows for recurring events on multiple days keeping data entry as efficient as possible.
Automatically Generated PDF's - PDF's for program listings are served when the download button is clicked on. This allows the content of the website to change and the PDF's to stay up-to-date with these changes. PDF's also allow for easy printing of programs in a category.
Puzzle Pieces: Puzzle pieces were created as an SVG rather than an image to allow it to work optimally as the screen sizes change. These puzzle pieces are a fun way to display the various categories while being easy to read & select.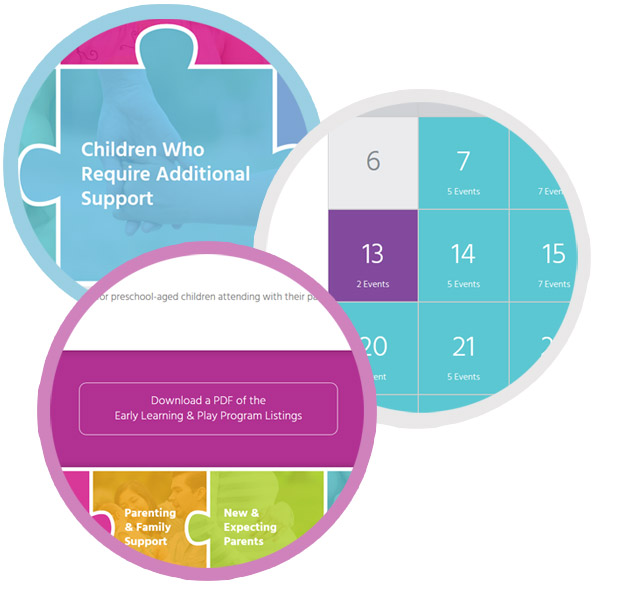 additional photos
Click on the images below to view various pages on the Richmond Kids website.