Facebook Timeline - A Journey Back to 2007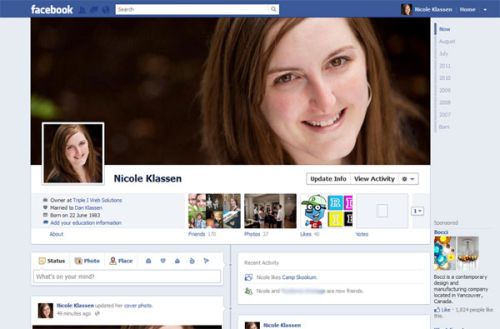 With such a dramatic change in style and feel I was just too curious to wait to find out what the new Facebook Timeline was about. The process in getting it set-up was quite striaght forward utilizing TechCrunch's article on how to enable the Facebook Timeline and already technically having developer status in Facebook from an App I needed to set-up for Red Pencil's Custom Facebook Page.
I know facebook has been getting a lot of heat lately about its various changes but personally I really like this one. The large picture captures visual interest right away (of course I'm extremely grateful to Revival Arts for their fabulous photography) and there are a number of features that make the timeline similar to a scrapbook but with no effort required.
At first glance:
Under the Main Photo:
---
Small synopsis of who you are
Your Friends, Photos and Pages you Like are all available under the main photo at the click of a button. Other Apps you've utilized are available in this area as well such as RSS subscriptions or notes.
Update your info, view your activity log and choose from a dropdown list of other options.
In the Timeline:
---
Recent events are grouped as blocks displayed on either side of the timeline.
Add posts into different areas of your timeline: Missed saying something yesterday but want it recorded? Add it in. Post today but set it for a date in the past! Note: To accomplish this click on the timeline itself and change the date in the status box.
See various items including Friends, Page likes etc. made in the current month.
At the end of a Year you are able to find out how many new friends you made, pages you liked, photos you were tagged in etc.
Utilizing the Date Bar:
---
Want to go back to a certain year? Specific Month? Click on the date navigation in the right.
Click on Born to add a photo or comment when you were born. The question is what happened between birth and 2007? Technically you could add items in by adding a status for a certain date in time before Facebook - pretty crazy!
Note: Unfortunately, you won't be able to view my profile publicly until Sept. 30th when Facebook lets it go live.