New Website Launch with Mobile Version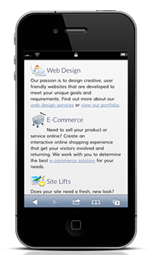 It was time for a website re-design to reflect our growth and development over the past few years. We're excited to see the results come to fruition.
Making it Mobile
We used the 1140 Grid CSS base which we love as it allows websites to be built using one framework to obtain optimal results on the various devices that are now used to access the web. To find out more feel free to browse our mobile services page.
Content Management System
We also used our favourite open source content management system,Concrete5. All the items are either pulled from existing modules or custom developed by us. Concrete5's in context editing makes it easy for us to update and see our changes before we set them live. We're even trying out their blogging platform. We'll keep you posted on how that works out. For now, we still recommend WordPress for blogging!
If you're looking to for a website re-design or would like to make your website mobile friendly be sure to contact us to find out more.