Image Kids - Website & Custom Form Implementation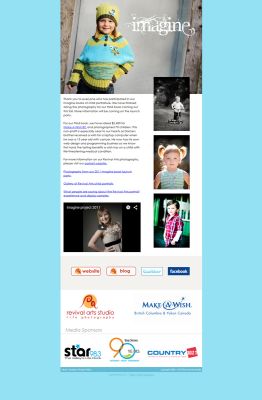 Darcie & Jason of Revival Arts Studio asked us to implement their website and custom form for Imagine Kids a new exciting project they are launching.
Revival Arts is publishing a coffee table art book with kids photography titled Imagine. They are currently looking for kids who would like to have their pictures taken and the session fees are going to a great charity called Matthew's House an organization that provides respite for severely disabled children. Kids photography coupled with a good cause --what a fabulous project!
If you would like to sign up your children or find out more information check out http://www.imaginekids.ca